Novelties Introducing MenDan's novelties
The empire of flavors
In 2014 we have opened up our wine cave, which offers 530 different prize-winner Hungarian wines and many international specialties to our guests.
On the 100 square meter mediterranean terrace you can enjoy many coffee and dessert creations in a comfortable and beautiful setting.
The magical Aqualand
Our new infra sauna awaits its guests right besides the swimming pools amongst new, extra comfortable sun-beds. Our gym is now equipped with eight brand new Techogym machines (2 Excite Run 500 treadmills, 2 Excite Synchro 700 ip elliptical trainers, 2 Excite Wave 700i stepping machines and 2 Excite Bike 500 i bicycles). Moreover a Flabélos WBV- 3000 machine and several weights (1-10kgs) are also waiting for you in the gym. Our sun- and panorama-deck was also renovated with new furniture that offers a comfortable sun-bathing experience for everybody.
Ice cave: According to the traditions of some Northern people, after sitting in a searing hot sauna, the best thing to do is to spend time in the cold, fresh air. Today we have the technological means to create a similar experience, no matter what the current season is. The temperature in the ice cave is zero to minus 3°C.
JCrushed ice fountain: Using our ice fountain is another way to cool down after using the sauna. You can simply put the ice on your body or you can also rub it in your skin. Crushed ice is an effective supplement to the sauna. As a result of the changing hot and cold air and the increased sweating, the body detoxicates. Moreover, the more common symptoms of stress can be eliminated or reduced with the help of using the sauna regularly.
Wellness goes well with work
We have developed two meeting rooms of 50 and 100 square meters, both with natural light, which are perfect for smaller meetings or trainings. There is a new projector and canvas in our conference room to provide you with every essential tool for your professional presentation.
A place of eternal fun - Coral FunHouse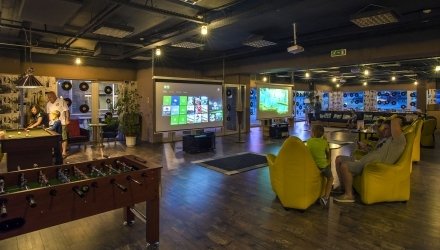 This is a place for young adults, where you can find games like darts, pool tables, multiple X-boxes, Fussball and more!
The perfect place for a tournament with your family or friends, a mixture of modern and retro design elements, where all you'll find is entertainment! And if your energy levels start to drop, fill it up in the place's own bistro, where you'll find everything from refreshments and cocktails to delicious finger food!
This place is also perfect for a professional weekend training or just to wind down a little bit after a long business meeting.
Don't worry, the list will continue, we are always full of ideas…