Gastronomy
Gourmet restaurant, gastronomic specialties
Zafír Restaurant
Opening hours: daily 07:00-10:30 and 18:00-22:00
Zafír Restaurant offer magnificent gastronomic pleasures for gourmet food and wine lovers, and to anyone wishing to spend some time in a pleasant environment with great company and tasty meals. We spoil our guests with rich food, whether you love traditional or hungarian cuisine, whether you are a vegetarian or the lover of exotic and spicy dishes.
It doesn't matter whether you have a big buffet breakfast, a magical dinner with live music, a candlelit, romantic lunch or just a brunch in bed – the specialties, the outlook, the mouthwatering smells and excellent tastes are guaranteed.
Table reservation
Almost uniquely, our Zafir restaurant can accommodate more than 400 guests at the same time. We also offer the possibility to book a table in our restaurant, so if you would like to take advantage of this free service, please let our sales staff know when you book your room by phone or e-mail at one of the following addresses (booking number, number of guests and time, or on the spot, at the restaurant management or at the reception desk.
MenDan Wine Cave
Wine list of Hungarian and foreign wines 
In the beginning of August 2014 we have completed our own wine cave, so our guests - beside the regular selection of Hungarian wines -, will find an even wider selection of the same, and in addition to those, we keep foreign wines also on offer. 
Our wine cave keeps more, than 500 kind of wines on stock, including all wines from every wine region of Hungary, representing selections of several prestigious winery paying special attention to the earlier front runner Zala wines.  The Sapphire restaurant, where earlier you could find Hungarian wines only, will keep more French wines and wine speacialities on the wine-list in the future to impress the gourmet ones and those who enjoys quality wines. Most of our wines are dry quality, but those who prefer sweet wine, will also find their favourite ones, and obviously we didn't forget about ladies guests. We keep extra wide selection of Rose wines on list.
You can also have the chance to taste the delicious wines of MenDan Wine Cave!
Smaragd Cafe Shop
Opening hours: daily 08:00-23:00
Our Emerald Caffé has been expanded with a 100m2 mediterranian terrace, with coffee and cake wonders on the list.
---
Coral Restaurant
Opening hours: daily 12:00-15:00
Our restaurant, located on the ground floor of our hotel, offers a "half-buffet" or buffet lunch and snacks every day of the year at noon (12.00 - 15.00). The restaurant's services are also available in bathrobes, so if you get hungry during the day, you don't have to interrupt your wellness experience by changing your clothes or drying off.
Coral Funhouse
Opening hours: daily 09:00-23:00
For the adults with childish mind and children between 6-8 years age we have created the Coral Funhouse, the "indoor playground" of Hotel MenDan. In the Playstation corner, beside the newest games they will find company as well, but we often throw them pizza partys or discos with alcohol-free cocktails, or even cardplaying afternoons. 
Pool Bar
Opening hours: daily 11:00-17:00
Our pool bar, located in our Aqualand building, in the gallery of the wellness area, is perhaps the perfect choice for a wellness break when you're thirsty or hungry. With a light snack-lunch offer, refreshing cocktail specialities, lemonades, beers and soft drinks, we are fully prepared to relieve hunger and thirst. From our pool bar we also serve our guests relaxing on our sun terrace.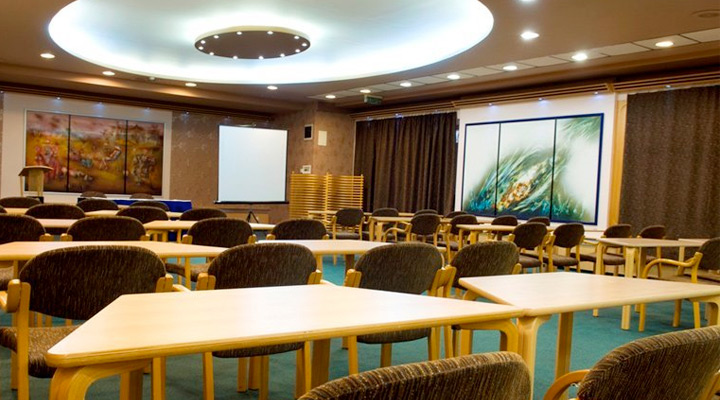 Smoking is allowed in:
The terrace of Coral Restaurant
The terrace of the Café
Beside these areas smoking is not permitted anywhere. 
We welcome you!