Relax-Terrace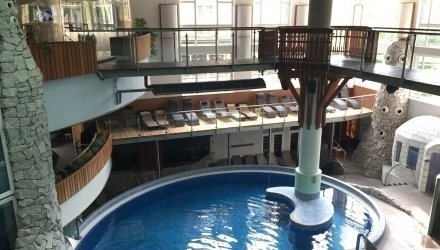 It's not like this hasn't always been our number one goal, but now, in the spring of 2016, it is especially true. We have taken the already special world of our Aqualand to the next level this pre-summer season - all for Your perfect holiday! 
Beside the constantly renewing and very popular, refreshing, invigorating and aromatic sauna shows, the tropical showers loud of chirping birds and the unique, rainforest-like adventure shower falling from 4 meters high, we now also offer an ice cave, and an ice fountain that perfects the sauna experience, as well as a renewed resting corner. But the list goes on.
There is now even more space for our comfortable pool chairs in the upstairs, cozy, newly constructed, sunny Relax-Terrace, providing an even more tranquil wellness experience.